The sun supplies the Earth's surface with energy in various forms, including UV radiation, visible radiation (light), and infrared radiation (heat). However, environmental pollution is damaging the ozone layer, allowing more harmful UV rays to reach the Earth's surface. To address this situation, we developed SK Homecare Film, a smart, eco-friendly product that protects your skin from harmful UV rays and saves energy by rejecting heat, providing a cooling effect for your home .

As it is composed of carefully selected pure ceramic materials, our product offers unrivalled durability. SK microworks uses only ceramic materials of the highest quality that have passed our rigorous tests, putting our products at a level far above some of the cheaper products in the market, which are made with low-quality materials. Our company possesses Xenon test equipment, which is used by only a handful of business in the industry, allowing us to conduct 1,000 hours of durability tests for each and every product. This is how SK microworks is able to offer a 10-year quality assurance guarantee.

SK Homecare Film uses super-clear PET materials that are often applied to optical products. As one of the world's top three manufacturers of PET, SK microworks uses self-manufactured, super-clear PET that offers remarkable visibility.

When it comes to heat rejection films for architectural use, the films must feature not only excellent heat rejection and UV protection but also adhesive properties, because they must be applied to glass. Our product uses a high-quality adhesive that does not turn yellow or leave any adhesive marks when removed from glass, even 10 years after it was applied. The quality of our products has already been recognized, as they are now exported to areas in the Russia that reach minus 20 degrees Celsius and regions of the Middle East that regularly see temperatures of over 50 degrees Celsius..
Protection of interior spaces through UV protection
By blocking harmful UV rays from penetrating your home, SK Homecare Film prevents the discoloration and bleaching of your furniture and curtains due to prolonged exposure to sunlight. The picture below shows how UV radiation causes the discoloration of items inside a home.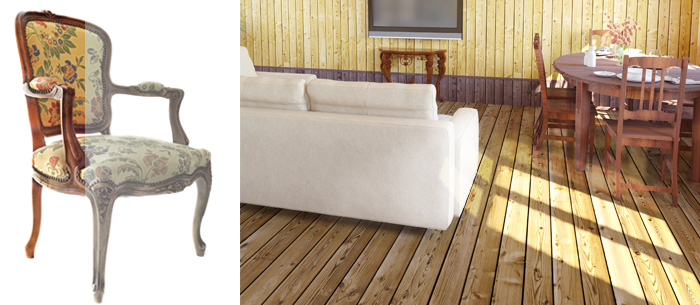 By offering remarkable UV protection, SK Homecare Film is any effective way of preventing the decolorization of home interiors and furniture. Harmful UV rays can cause skin trouble and ageing, even due to exposure within your own home. But now, with SK Homecare Film, you can protect the skin and health of your entire family.
Ten-year Quality Assurance
SK microworks owns a Xenon testing machine, a very expensive piece of testing equipment not commonly owned by domestic window film producers, enabling us to conduct continuous testing in order to increase the durability of our products. SK Homecare Film exclusively uses patented high-purity ceramics. Ceramics with higher concentrations of impurities are of extremely poor quality in terms of durability and performance
Based on its use of high-purity nano-cermaic materials, SK microworks's heat rejection film for architectural purposes offers a ten-year quality assurance guarantee. SK microworks only uses ceramic materials with outstanding durability (materials whose △E value is a mere 1.0 in the Xenon test).
Use of optical super-clear PET materials
The world's leading manufacturer of PET material, SK microworks uses super-clear PET material carefully selected for its optical properties in the production of its heat rejection window film. By using the Haze Test, which is a measure of the film's turbidity, the company is capable of supplying world-class products to the market.
The SK microworks Ball Tack Test measures the tack of adhesives after the film has been applied to glass. The larger the ball, the stronger its adhesiveness. When testing SK microworks's competing products, the second ball falls without being able to endure further. In contrast, the adhesive properties of SK microworks products remain unchanged and stable even after the fourth ball and during the 1,000-hour tests at high and low temperatures and high temperature and humidity.
Application of stable, highly durable adhesive
SK microworks uses a high-quality adhesive that is not sensitive to temperature or humidity, even long after the film has been applied to glass. And even when removing the film many years after it was applied, no trace of the adhesive will remain on the glass.
- After removing the adhesive from the oven, it undergoes a 30-minute aging process before it is applied to a piece of one-inch by one-inch glass.
- After application to the glass, the adhesive undergoes a 30-minute aging process before its adhesiveness is measured..
Outstanding heat rejection

구분, Clear Glass, Ceramic 7080, NC 4590, NC 5080 정보를 담고있는 목록

| Category | Clear Glass | Ceramic 7080 | NC 4590 | NC 5080 |
| --- | --- | --- | --- | --- |
| BTU | 430 | 133 (70% reduction of calories) | 32 (92% reduction of calories) | 70 (83% reduction of calories) |
Solar Transmission & Power Meter
EDTM #SP2065
※ British Thermal Unit [英國熱量單位]
: The British thermal unit refers to the amount of heat required to increase the temperature of one pound of water from 60.5 to 61.5 degrees Fahrenheit under standard atmospheric pressure.
In these images, you can see how the solar heat penetrating your home declines when using SK Homecare Film. By effectively blocking infrared radiation, the product prevents outside heat from infiltrating the interior of your home, allowing you to maintain a comfortable living environment while still getting an adequate amount of sunlight.