Home > PRODUCT > Architectural Window Flim > Galaxy


Building Window Film Strengths (Heat Rejection Films)
1. Blocks solar heat and saves energy and air conditioning costs.
2. Blocks 99% of hazardous UV rays, protecting skin and preventing decoloration and discoloration of interior furniture and
curtains.
3. With its high visibility and glare reduction, it protects eyes and provides vivid prospect.
4. Protects privacy and enhances building facade.
5. Prevents secondary damage caused by shattering in the event of external physical impact.
6. Dew condensation protection in the winter
Galaxy Optical Grade Nano Ceramic IR Cut film
Model
Color
Visible Light
Transmitted
Shading
Coefficient
Solar Heat Gain
Coefficient
UV Rejected
IR Rejected
(900~1000nm)
Total Solar
Energy Rejected
Haze
NC 4590
Dark Blue
43%
0.47
0.41
99%↑
95%
59%
1.3%
NC 5080
Dark Blue
48%
0.53
0.46
99%↑
84%
54%
1.3%
NS 5590
Light Blue
54%
0.45
0.39
99%↑
95%
61%
1.3%
NS 6080
Light Blue
57%
0.48
0.42
99%↑
89%
58%
1.3%
NS 6090
Light Blue
60%
0.51
0.44
99%↑
94%
56%
1.3%
NS 7080
Light Blue
67%
0.59
0.51
99%↑
80%
49%
1.3%
Ceramic7080
Light Blue
72%
0.64
0.56
99%↑
82%
44%
0.8%
RS 4080
Green
44%
0.57
0.5
99%↑
83%
45%
0.8%
RS 4080
Black
45%
0.58
0.5
99%↑
83%
45%
0.8%
TC 1095
Black
6%
0.43
0.37
99%↑
95%
70%
1.4%
TC 2095
Black
11%
0.45
0.4
99%↑
95%
67%
1.4%
TC 4095
Black
36%
0.54
0.47
99%↑
95%
58%
1.4%
TC 5095
Black
51%
0.57
0.49
99%↑
95%
54%
1.4%
TC 6095
Black
57%
0.6
0.52
99%↑
95%
52%
1.4%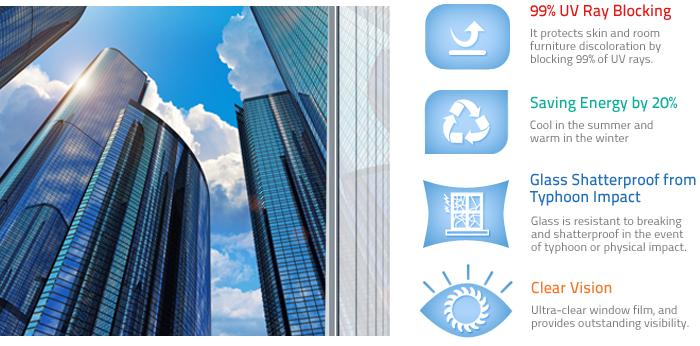 Ratio of visible light (380~780nm) transmitted from solar radiation energy. The 15% indicates 15% of visible light transmitted. It generally means film concentration.
Objective base value rejecting solar radiation heat transmission through the glass window. The lower the shading coefficient, the lower the solar radiation heat transmitted indoors, and the more it saves room-cooling energy.
Ratio of hazardous UV rays blocked. It protects eyes and skin and minimizes deformation of indoor valuables. The entire line of SK microworks building window film products protects against 99% of UV rays or more.
IR blocking is measured only for the range of Infra-red, but is very closely related to heat. The higher performance a film is, the higher IR blocking it has in the same concentration and the better Heat Rejection performance it provides.
Ratio of total solar energy incident, reflected and absorbed to/by the film. The higher the TSER, the better the thermal blocking performance. Because TSER increases only by raised concentration, it should be considered along with IR rejected.
Film clarity. The lower it is, the clearer and more vivid visibility. SK microworks produces ultra-clear window films in the industry's lowest 0.4-6% clearness for sale all around the world.
Factor preventing film surface scratches to keep film clear and maintained for a long time. Applying top-class hard coating technology, SK microworks window film provides outstanding durability.